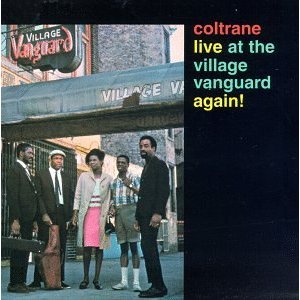 Finally, I've got the CD album of "coltrane live at the village vangard again!"

After I finished listening to this album. Their performance of this CD totatlly

captivated me.

Excellent!!! Amazing!!, but I can't explain what makes it extraordinary.....,but I can't

resist to expressing how beautiful it is.

First,particularly, the contrast of performances between Jhon coltrane and

Pharaho Sanders are beautifully sensual. For example, the first track was "NAIMA."

this is a ballad tune that was written by Jhon coltrane. Coltrane was playing the

melody of the theme that was extremely beautiful. After playing the melody of

theme, suddenly,

Pharaho Sanders was starting to improvise. On the other hand, his improvisation was

abstract, aggressive, and energetic. I have never heard such an effective contract
before.

Second, In the second tune" My favorite things"The tune was begun by Jimmy

Garison's ghastly introduction. After that, Coltrane played

the melody ordinary way, but his performance was back and force between free

style and ordinary style. However, when Pharoa started to improvise , he broke all

of them with his crazy fee style. His play looks like a human's scream.

Furthermore, while Pharoa was conducting his solo, Coltrane started to his solo.

Nonetheless, two players were never stopping conducting each improvisations.

Therefore, they were playing each improvisation same time, and it made a parallel

structure.

In conclusion, Coltrane and Pharoa completely destroy traditional Jazz style.

excellent,,,,It could be said "Aesthetics of the destruction."

When they destroy all of them, Coltrane begun to play the melody of theme.

He could controll the music such as a wild beast....beautiful,,, too beautiful...

How amorous it is,,,I erected after a long absence.
▲ by kinoyan-r | 2013-06-19 20:34